I am frequently told by clients that they have no idea what kind of bouquet they want to carry. My job as their florist is to remind them that their bouquet is their primary accessory and the second thing most guests will notice when they see them coming down the aisle (after how gorgeous and happy they look in their gown!) It will be featured in almost all their photos, most likely being the star of one or two shots. For this reason, it is important to make sure the bouquet is an appropriate size and style to complement the gown as well as the venue and the overall wedding theme.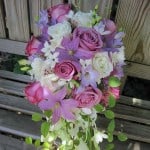 Cascade bouquets are the most traditional, perfect for formal weddings in grand ballrooms. They complement best gowns with full skirts and long trains. These can be the most expensive due to the time and skill required to create a beautiful, graceful shape.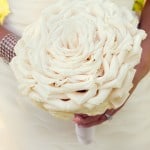 Composite bouquets are made from many individual flowers reconstructed to appear as one large flower. This is a vintage bouquet, popular in the 40s and 50s and is perfectly suited to a retro-themed celebration. These can also be quite expensive, in large part due to the time and specific skills required to pull off such a look.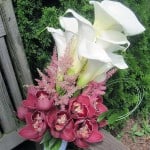 Presentation, or pageant, bouquets are carried across the arm rather than in front of the body. This is the kind of arrangement presented to Miss America. They can have a lot of movement and are perfect for a more modern event. This is a more moderately priced bouquet, as it usually requires fewer flowers.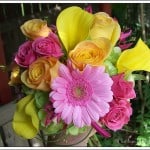 Hand-tied bouquets are the most common type seen today and are appropriate for any wedding. They can be comprised of a single flower or color, or incorporate many. The simpler the bouquet, the more formal; picture a large round bouquet consisting of luscious white roses. The more different flowers and colors involved, the more casual the bouquet becomes, as it starts to resemble a summer garden. Prices for these types of bouquets can vary depending on the size and the specific flowers requested.
Bouquet prices can range from under $20 for a single stem of a flower to $300 and up for the most exquisite cascade of orchids and gardenias. We have loads of experience working within budgets and are happy to suggest ways to rein in the costs!