January is a slow time for a wedding florist in upstate NY; I think in the past 10 years, I've provided the flowers for just one January wedding. One! The cold and the gray characteristic of this time of year must not inspire romance in people! But when you think about it, what better time is there??
Mid-winter is a fantastic time to hold your wedding. Venues and vendors typically experience a lull in parties at this point of the year, and you may find better pricing than during the rest of the year. Plus, your guests will most likely have fewer "other plans" and could use a party to liven up their winter. And because it gets dark so early, those candles will really provide the ambiance they are intended to provide! A venue with a fireplace will be a hit, and you can charm your smokers with a little firepit outside. Add in a s'mores station or a hot cocoa bar, and you've really got the makings for a great and memorable event (hot toddies, anyone??). And need I even mention the romance inherent in a horse-drawn sleigh ride??
Perhaps one of the best reasons to consider a mid-winter wedding is the reemergence of spring bulb flowers on the market. I'm talking tulips, hyacinths, daffodils, as well as an abundance of flowering branches like cherry and forsythia. Using these flowers will bring a sense of warmth and hope to your wedding, not to mention an unmistakable fragrance! They are most perfect when simply tied together with a gorgeous ribbon or arranged elegantly in crystal clear vases.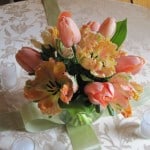 The depths of winter can provide a beautiful backdrop for a lovely event! If you haven't set a date yet, consider this time of year!