We're 3 months into winter with no end in sight; I don't know about you but I'm so ready for spring I can smell it! Literally! I picked up a hyacinth plant last week, and it's in full bloom now, filling my house with its distinct fragrance. It smells so good that if I close my eyes, I can almost pretend there isn't 2 feet of snow outside my window.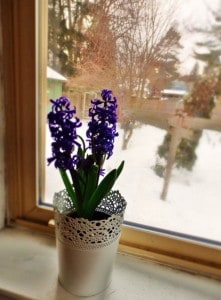 These little bulb plants are a great way to bring some cheer into your life on these cold wintry days. They are readily available at your local flower shop in a variety of colors. All you have to do is bring one home and voila! Instant spring! If the fragrance doesn't appeal to you, check out the other spring bulbs; tulips and narcissus are also terrific choices, as are muscari and crocuses if you can find them. Place them on a sunny windowsill in a room that you're in often, water when they are dry, and enjoy the show! The best part? Once the blooms are done, you can save the bulbs and plant them outside in the fall.
With any luck, your bulb plant will get you through the next few weeks, when…fingers crossed…the ones in the garden will take over!