One of the biggest challenges for a small business owner is time-management. I am the only employee of Floribunda Designs (Todd doesn't get paid, so I guess technically, he is my slave). That means I am the wedding consultant, the designer, and the delivery person. I also am the accountant, the janitor, and the social media person (this is only my 2nd blog post this year; some things I'm better at than others). It can be overwhelming at times, especially when it's peak wedding season and I am juggling all 6 jobs at once. And one in particular causes me more stress than the others: delivering.
Several years ago, we decided to experiment with being a one-car family. The one car we chose was a Honda Element; it seemed like the perfect vehicle for us. It gets good gas mileage for an SUV, especially one that is shaped like a toaster. I can take out the rear seats and turn it into a little van for my wedding deliveries, and it's great for when we want to go somewhere with our bikes or kayaks.
And boy, can I fit a lot of stuff back there. Twice, I have driven out of state for weddings. That means EVERYTHING I could possibly need…flowers, supplies, etc…needs to be packed and in the car. I'm pretty organized in this regard, but I do still wake at 3am thinking of things I've overlooked (usually this occurs months before the wedding, when there's no reason for it and nothing I can do about it but put it on a list.)
This spring, I drove to Pittsburgh for my cousin's wedding. As we were also attending the wedding, the list also included luggage and Todd. This is what the car looked like: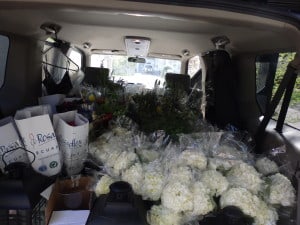 There wasn't room for even one more thing. But I didn't have to worry about buckets tipping over because everything was packed so tightly!
That experience highlights 2 of my main concerns about deliveries. One, is everything going to fit so I don't need to make multiple trips? Obviously, when the wedding is 6 hours away, a second trip is out of the question. But when I have a large wedding 30 minutes away and a relatively short window for the delivery, being able to get all the centerpieces in the car is key. Fortunately Todd is a packing savant and can fit more in there than you would think possible. And when that still won't work, then I have to be creative: can I take anything ahead of time? Can I deliver some things early with the bouquets? Do I need to rent a larger van for the day?
Two, is everybody else driving around today going to be a jerk? Will I need to brake quickly, tipping things over? Am I going to have to drive up a steep hill? This is primarily a concern with smaller weddings that don't completely fill the car. The worst noise in the world is the sound of an arrangement falling over. These are the times I'm driving around like I can't reach the gas pedal, holding my breath when I go around corners.
I also am not a fan of my Garmin, although the new one is vastly superior to Daniel, Garmin #1. He was always telling me to turn down cow paths or directing me to bridges that were closed. And I swear I could hear him rolling his eyes when he'd say "recalculating" if I missed or ignored a turn. I don't need to be judged, man. I just need to get there, safely, and with as little water-spillage as possible.
What makes it all worth it is the final destination. The reaction of the bride when she sees her bouquet, the transformation of the venue when the flowers are in place? Worth every second of stress.