Tis the season for end-of-the-year best-of lists and show biz awards ceremonies, so in that vein, I've decided to have my own little recap of the year's best moments. It was a busy, fun, challenging, creative year, and these "winners" reflect some of my best days!
Favorite Venue: We are spoiled here in CNY with a ton of really fabulous event venues. You can find places to host whatever sort of wedding you want, from rustic to traditional to modern. My favorite this year was the Colgate Inn in Hamilton. It's a smaller venue which lends a very intimate feeling to the party. It's immaculate, and the staff is top notch (and helpful, which is not always the case…), plus the food is amazing! This is the place to go for a classic wedding party.
Best Bridal Bouquet: I know, I know, every weekend I was posting on Facebook about how that week's wedding was my absolute favorite (it's the same when we travel; wherever we were last is my favorite place in the world.) But this bouquet, from early in the summer, remains one of my all-time favorites. I love the almost mono-chromatic color scheme, the flower combination, and the striking way those anemones steal the show.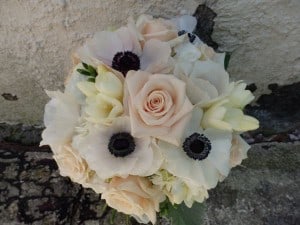 Best Bridesmaids' Bouquets: I can't help but smile looking at these bouquets. The color! Possibly the most perfect roses in existence! The cheery gerbera daisies! Just happiness and joy in flower form.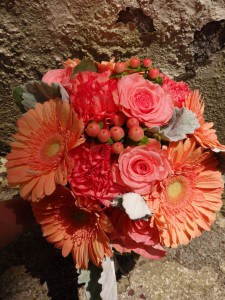 Best Centerpieces: Hands-down, the most beautiful centerpieces of the year are these stunners in mercury glass urns. So classy and sophisticated, yet casual and charming. And made all the better by the amazing place settings and table numbers. These tables were perfection. At the Colgate Inn, Hamilton.
Best Ceremony Décor: This ceremony site is so ridiculously beautiful I can hardly stand it. With props and staging supplied by A Mad Affair of Rome and my own arbor, we created the perfect backdrop for a mid-summer's country wedding. All the elements advanced the rustic theme without compromising elegance. At MKJ Farms, Deansboro.
Favorite Color Scheme: When a bride tells me her color scheme is purple and green, I am practically giddy with joy. My all-time favorite. These were my lovely cousin's bouquets, so obviously this is a family thing

MVP: A relatively new rose on the market, Mondial was a revelation this year. It is delicious. A wonderfully creamy white, with hints of yellow. It opens wide (seriously, this rose can be 6" across) and is loaded with petals for a very lush, romantic look. I used it in bouquets and in centerpieces, and it never disappointed.